I'm so happy to have had the opportunity to join in with this year's 24 Days of Quick Knit and Crochet Gifts with Marly Bird and Friends! Marly has teamed up with a group of knitting and crochet designers, and I'm one of them, to share some great patterns for last minute gifts. Each day from December 1st – 24th, a different designer or designers will be featured and they'll have a special pattern to share with you for free. Today is my day and I'm so happy to be sharing my Friday Afternoon Hat with you for FREE for the next 24 hours. It's a quick knit, just perfect for that single skein of DK yarn that you've had sat in your stash just waiting to be matched with a pattern.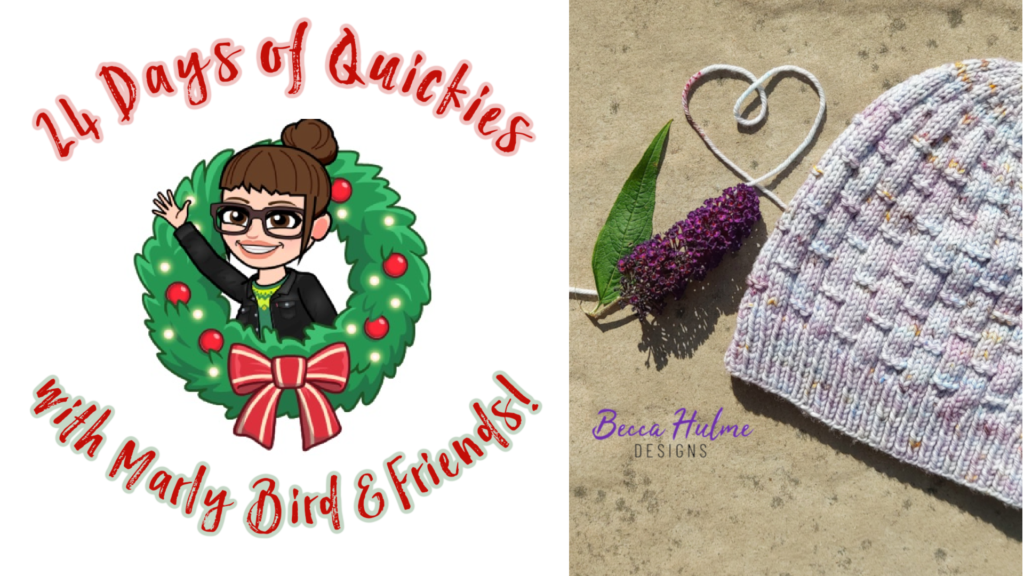 But first: Click HERE! to go to Marly's blog and see all the other wonderful patterns that are being shared in this event. There are 2 crochet patterns available today along with mine. Some of the previous days patterns are also still available for free and there will be another 3 every day between now and 24th December, so be sure to check back on Marly's blog post.
Friday Afternoon Hat
This is one of my favourite 'easy knits', and would be a perfect quick knit for a present. Have you just found out you need a gift for someone who you'll be seeing over Christmas? Do you need to replace your winter hat but need one quick? So grab your favourite skein of DK (all sizes take less than 100g) and some needles and get knitting. Today – 18th December – it's also available for free. All the details are below and if you click on the big red button at the bottom, you can get your free PDF of the pattern. The link takes you to my Ravelry store where the pattern will automatically be made free when you add it to your cart. If it's not free anymore, it will be because it is outside of the promotion window.
Pattern Information
Sizes (to fit):
Toddler: 43cm (17in)
Child: 45.5-48cm (18-19in)
Teen: 50.5-53cm (20-21in)
Small Adult: 56cm (22in)
Large Adult: 61cm (24in)
All sizes have a decent amount of stretch due to the nature of the pattern so pick the size closest to your measurements.
Yarn Requirements
DK weight yarn. Sample used www.adventuresinyarncraft.co.uk Merino DK yarn in colourway Violet.
120-170m yarn depending on size chosen.
Needles & Notions
3.75mm & 4mm circular needles or dpns or size needed to obtain gauge.
darning needle
stitch marker (optional)
Gauge
26sts & 32 rows = 10cm (4 inches) in k3, p1 rib, lightly blocked in larger needle.
The horizontal gauge (26sts) is more important than the row gauge.
Pattern Link
This pattern is no longer available for free on Ravelry as my 24 hours offer has passed. However, until Christmas Day, you can still download it direct from me using the link below.
Click here!
Happy Knitting!


Other patterns by Becca Hulme